This month, involve.ai will be rolling out an update to your suggestions tool. Suggestions will now be bigger, better, stronger and revamped.
What are Suggestions?
Suggestions are automatically created action items based on your customer data and industry trends. So any user, regardless of department or their experience with the customer, will know exactly where to start.
This article will walk you through-
Where to find your new AI-generated suggestions
How to take action using Suggestions
Who this feature can help the most 
Where can I find and use my customer suggestions

?

Your AI-generated suggested action items are visible in two places: within your Customers and Workspaces tabs. 

To view your customer suggestions in your Customers tab, click the little right-facing arrow all the way to the right side of your dashboard:

This little arrow will bring out more detailed info regarding that particular client. 
Within the General Info tab that you automatically land on, scroll down to see Insights. These Insights will be your suggested action items:
Clicking the three dots on the top right of a particular suggestion will allow you to add that suggested action item as an info card within your workspace or dismiss it. 
To view your customer suggestions in workspaces, click Workspaces in your top menu.
Your first column on the left-hand side will display all your suggested action items within your Workspaces tab.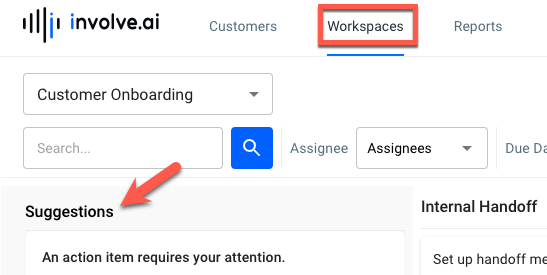 Hovering over the end of any of your suggestions will show you an X and a green arrow:

Clicking on the X will dismiss that suggestion for that customer, and clicking on the green arrow will convert that suggestion into an info card within your workspace. 
Who will benefit the most from suggestions?
Customer Success Representatives & Account Managers 
CS Representatives and Account Managers will feel more confident in their customer interactions when implementing these data-driven suggestions. For CS and AM reps with a long history with their customers, suggestions will be their extra set of eyes, ensuring no task is missed and validating their action ideas. For reps with little to no experience with their customers, suggestions will quickly give them the perfect starting point. 
Managers and Admins
Suggestions display both the suggested action and the data behind it. For managers and admins, having a quick view of what customers need and why will help you better prepare your teams for the week and meet goals. 
Reference for Other Departments: Support, Product Marketing, and Marketing
Suggestions is an additional data interpretation tool, which will make it the perfect resource for other departments within your organization. If your support team notices multiple suggestions with the same question, they'll be able to create resources to address that question earlier on. For example, if your product marketing team and/or marketing team see multiple positive sentiment suggestions for the same user, they'll be able to identify who they can reach out to for use cases and other content opportunities. 
Fundamentally, suggestions help you and your users save time, improve your customer health score, and grow revenue. Check out your suggestions today within your involve.ai account and leave us any feedback or questions in the comments below.