Over the past month, our team has been putting together some new resources to help users explore the platform and better understand their data. As a little reward along the way, we've created some great new involve.ai badges that you'll be eligible for as you complete new tasks each week. Here's an overview for reference: 
Badge 1: Learners (7 steps)
Your Learner's badge is all about getting to know your customer dashboard. Upon logging in, you will see this guide overview that will walk you through the necessary parts to attain your Learner badge. Once you complete the guide, you will be able to collect your badge. 
You can always choose to snooze the guide by selecting REMIND ME LATER or reference it in your CHIA Helpdesk, by clicking the CHIA icon then on Your Onboarding Progress: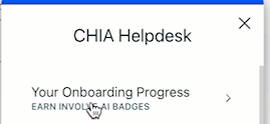 Badge 2: Champion (6 steps)
Once you complete the guide for your Learner's badge, you will be eligible to receive your Champion badge. Your Champion guide will showcase your health score details in more depth. 
Like the first guide, you will see it popup first automatically, but you can snooze it or access it In your CHIA Helpdesk. 
Badge 3: Pro (7 steps)
Lastly, you will get the opportunity to earn your Pro badge. Your Pro badge is all about getting familiar with Workspaces. So, for those already familiar, this one should be a snap. Workspaces is the perfect place for task management and collaboration, so this overview will showcase some of the most important parts. 
Login to your account and get started earning your new badges today!